Livro XIX
12/12/05 Fnac Chiado 21,65€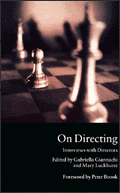 On Directing - Interviews with Directors
Organizado por Gabriella Giannachi e Mary Luckhurst
faber and faber
"Pete Brooks - in the next couple of years I'm determined to make a couple of independent short films. I' m disappointed by a great deal of theatre. I love it, but I am beginning not to like its transience; as I get older I want to do something fixed. "
"Tim Etchells - The strong literary theatre tradition in Britain does make life difficult for anyone working ina different way. In mainland Europe things are more open, more interesting, and so there have been plenty of opportunities for us there. People often remark that what we're doing is 'shockingly new', but in fact it has a leneage and a context that is just too rarely known."
"Garry Hynes - It's also responsibility, and now that I'm half way through a career in the theatre I am very conscious that the world does not need yet another production of a classic play without a very good reason indeed. These days I see little point in doing a great many established plays. Why do the 900th production of
The Cherry Orchard
? What could I possibly offer?"
"Simon McBurney - One of the prolems in the twentieth century has been the death of popluar theatre: variety and music hall have been swallowed up by television, which has nothing of the 'presence' of theatre. So theatre has become a place for the middle-class intellectuals."
"Clifford McLucas e Mike Pearson - We always do the research ourselves; it's part of the process of creating this composite art. We often use bodies of material that co-exist in our pieces: historical material, personal textual material, analytical material. I'm always surprised that others don't work like this.(..) The theories which currently operate at the centre of theatre are not suitable for us."
"Julia Pascal - I always know that rehearsals are going well if the actors are telling sexy jokes."